At this post I want to review a little bit about the SKII products. SKII has begun to crawl since a few years ago. Because I used to be careless about my skin, so I was never aware about SKII. But that was then, now I am even fond of this product.
There are many variants released by SKII. Toner, soap, face cream, eye cream and so on. SKII also issued several trial package consisting of several products with a smaller size than the regular one. As an example the one that I bought : Trial Basic Package. This package consisting of Facial Treatment Gentle Cleanser, Facial Treatment Clear Lotion, Facial Treatment Essence (which is the holy grail of miracle water, so i'll review this in another post), Facial Treatment Repair C and RNA (Radical New Age) Power Cream.
If you buy this Trial Basic Package you can start by washing your face using the Facial Treatment Gentle Cleanser. After lightly washing the face, take a grape-sized amount of the product onto your palm. Blend with water to create a foamy lather. Gently cleanse the face and neck, then rinse off. Use every morning and night before the toner. This cleanser infused with Pitera and white willow extract, comes with natural rose scent cleanses impurities around and inside the pores while enveloping your skin with silky smoothness. Feel the immense conditioning effect even after cleansing. It does not make your skin dry or feel like being pull back. 😛
After washing your face, you can proceed with cleaning the face using a cotton swab that has been poured by Facial Treatment Clear Lotion. This toner is very fresh and able to clean the remnants of dirt upfront. This effective toning lotion with a mix of AHA and Pitera exfoliates dead skin cells and impurities. Its clarifying formula prepares your face for the rest of your skincare regimen. The texture is light and watery, this toning lotion penetrates into the skin surface.
The next step is using the Facial Treatment Essence which is the holy grail miracle water. Just simply pour FTE to cotton buds or the palm of the hand, then rubbed and gently tap-tap on the face until completely absorbed. Or you can also directly pour about 4 drops to you palm, and rub gently to you face. Trust me if you routinely use FTE you will feel your face skin cleaner and chewy and glowing.
After FTE soak into the skin of the face, you can continue to use Facial Treatment Repair C. A serum with shaped soft gel that is easily absorbed into the skin. A nutrient-rich serum with a mix of concentrated Pitera and hyaluronic acid, it Reduces the appearance of wrinkles and roughness to refine skin texture and elasticity. Pump 1-2 times on the palms and massage onto face and eye area in an outward motion, concentrating on dry and rough areas. Lightly tap around your face for complete absorption. Use morning and night after your beauty essence.
Based on my order RNA Power used at the end of the routine. It claimed can improves multiple signs of aging, giving you a new level of firmness from multiple angles, so that Becomes skin firmer, smoother, tighter, and more radiant. After one jar, fine lines Appear less defined. That's why it is called Radical New Age right ..? : P Just embrace a future of youthful beauty.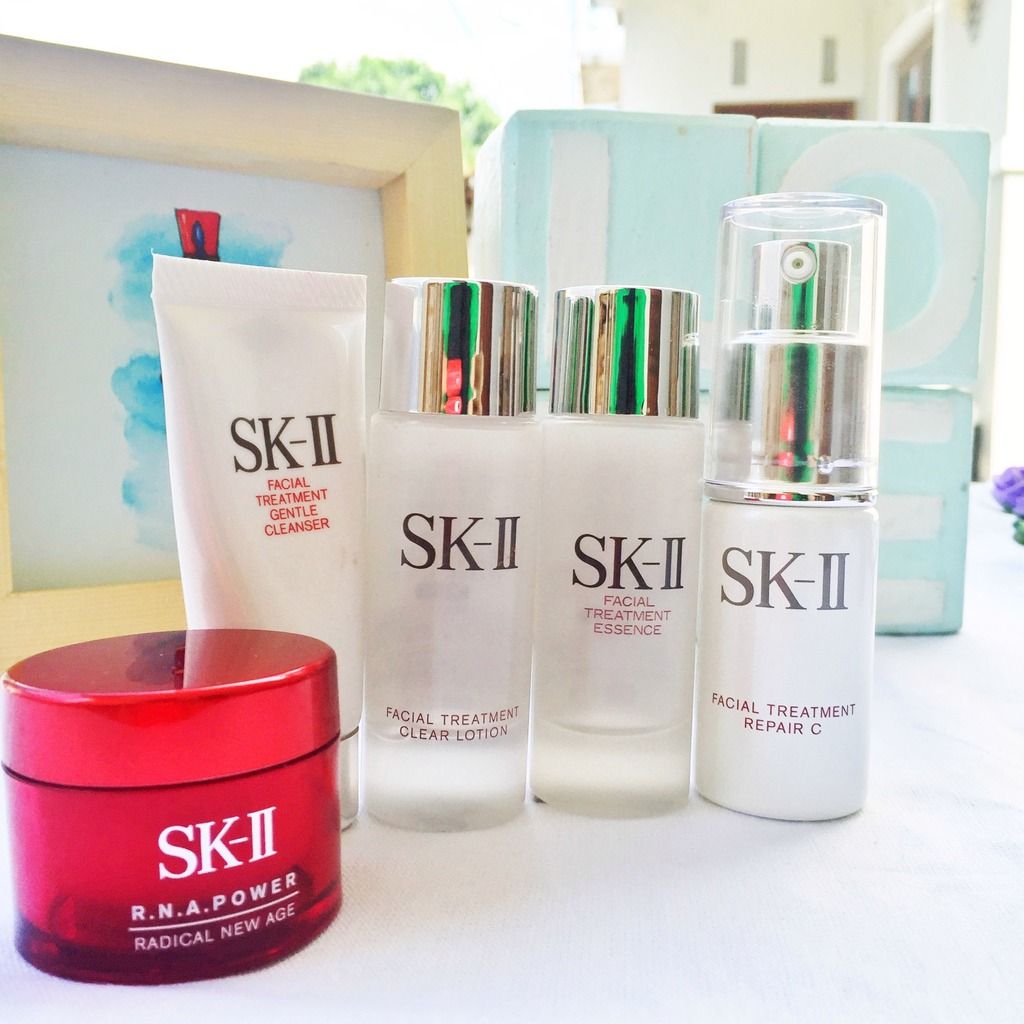 The SKII is a relatively expensive product. But like i said at the beginning SKII itself also issued several packages which is relatively cheaper than buying the regular size. Espesially for the beginner. You can check the complete products at SOCIOLLA, one of the high brand cosmetics site. At Instagram you can also find some trusted online shop where you can even buy a package with a smaller size. You can check in ELLEANDRA BEAUTY. It got almost all of SKII variant, include another brand you may like to check.
FYI : i bought this Trial Basic Package for IDR 800K, and this can be used for a month. Not bad hah..?? 🙂

There is no harm in taking care of your skin as early as possible with high quality products. I even wish I had started doing it from a long time ago.
X.O.X.O